Before generating an Amazon listing it is necessary to specify the category, or categories, where to merge the products to be sent to the marketplace.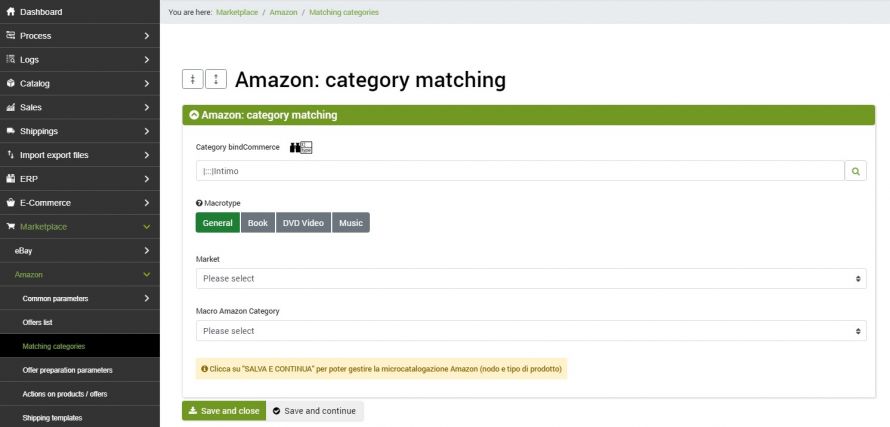 The page where it is possible to define these correspondences can be reached from the menu:
Marketplace >> Amazon >> Matching categories
To add a correspondence click on Add and fill in the form that will open with the following fields:
Amazon: category matching


Category bindCommerce: one of our categories that we want to match. To choose the bindCommerce category, you can use the autocomplete function, or click on the magnifying glass and use the search function
Macrotype: Amazon has three macro-types, one of which must be indicated before choosing the category, they are: General, Book, DVD Video
Market: Amazon offers multiple markets in which to sell your items: Italy, Canada, China, Germany, Spain, France, India, Japan, United Kingdom, USA. Just choose the one you want
Amazon Macro Category: in this field the Amazon category to be combined with the bindCommerce category must be chosen
Choose Save and Continue to reload the page with the additional required fields
Product type: the type of product linked to the Amazon category just chosen. Each category has its own product types
Node: the Amazon node previously created
Infine cliccare su Salva e chiudi.
Le corrispondenze categorie Amazon devono obbligatoriamente essere eseguite per tutte le categorie che contengono prodotti da pubblicare sul marketplace nella modalità di offerte NON note. Per le pubblicazioni di tipo NOTO al marketplace non è necessario effettuare le corrispondenze di categoria.
Thank you for rating this article.