Offer publishing configuration
Before being able to send announcements to Kijiji, it is necessary to create a configuration to specify general and more specific information concerning the web server where to upload the generated file.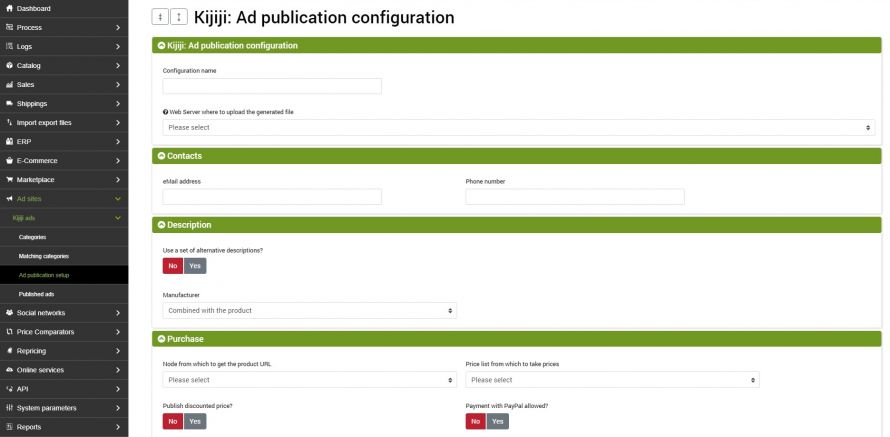 We will find the section used for this purpose under the heading:
Ad sites >> Kijiji ads >> Ad publication setup

In this section there are some fields to fill in such as:
Configuration name: identifier to be able to remember later the function of the configuration;
Web Server where to upload the generated file: in this field it is necessary to specify the web server in which bindCommerce will save the file containing the offers and from which Kijiji will make the withdrawal;
eMail address: indicate the eMail address specified during registration on the platform;
Phone number: indicate the telephone number specified when registering on the platform;
Use a set of alternative descriptions? - The option allows you to publish on Kijiji the values ​​of products present in an alternative date, instead of the main ones. This possibility can be used to manage the publication in alternative languages ​​or with a different format.
Node from which to get the product url: in this option you must indicate the node of the eCommerce platform from which the product urls will be downloaded. The same will then be indicated in the individual announcements on Kijiji;
Price list from which to take the prices: the price list from which to take the prices to be applied to the single announcements;
Publish discounted price? - Specify whether or not to apply a discounted price to the ad if present in the price list indicated in the previous item;
Payment with PayPal allowed? - Allows you to enable or disable payment via Paypal;
Click on SAVE AND CLOSE.
Ad submission connector
Once the rest of the configurations are finished, all that remains is to create the connector that will take care of sending the ads to Kijiji.
Go to the menu:
Process >> Connectors
Click on Add and fill in the fields as follows:
Connector name;
Node type (technology): in our case it is "Marketplace Kijiji";
Node: the node we created at the beginning, which can be selected from a list of nodes related to Kijiji technology;
Connector Type: We need "Marketplace Kijiji [Ad Operations]" to publish offers.
Clicking on "Save and Continue" will also appear:
Filters on the records to be treated (products): filter previously set in the "Processes -> Filters" section that will select the products that will be sent to the Kijiji marketplace;
Kijiji: ad serving configuration: in which we will select our configuration;
Do the connector immediately? - Select yes if you want the connector to run as soon as it is saved.
Click on SAVE AND CLOSE.
Thank you for rating this article.