Integration with the WooCommerce plugin for WordPress is available starting from version 2.3.9
The coverage of integration is very wide, both for products and for orders , in both directions: the service allows you to publish your product catalog on WooCommerce, but also to use WooCommerce as a data source to go to other systems (such as marketplaces). Orders can be picked up from WooCommerce in order to be sent to external systems (e.g. ERP), or it is possible to manage the integration in the opposite direction, by centralizing the orders on the WooCommerce panel.
After developing the first integration using the WooCommerce APIs, in order to improve communication performance, we migrated to proprietary scripts capable of publishing thousands of products in a few minutes, as well as managing the integration of non-native fields related to orders. Regarding the download of orders, bindCommerce allows you to download billing data (including those necessary for electronic billing) by making use of order-related metadata, or by using data from the WooCommerce EU VAT plugins Number and WooCommerce PDF Invoices Italian Add-on .
---
You can request that the initial configuration service be performed on a project basis by the bindCommerce team. We invite you to contact us to find out more about your needs.
---
WooCommerce: The new window on the world
It is a cold evening in March and the outlines of the buildings in Milano are lost in the damp fog that envelops every gesture, every thought.
Beyond the door you hear a few shy steps, a knocking a little more decisive and finally an absolutely fearless request: "Why don't we develop a site like Facebook ? What does it take? "
What about become billionaires?
Everyone sooner or later happens to reflect on the technological evolution of recent years, wondering what has separated Facebook, WhatsApp or Instagram from the thousands of similar platforms and applications, born in the same time span. What makes the difference between a success destined to change the daily life of billions of people and a forgotten project? And is it ever possible to replicate this success?
No. The elements that contributed to the exponential growth of these platforms are so many and so rare that it is virtually impossible to replicate them in the same measure, especially since the time window in which it was possible to do so without huge economic resources is long since closed.
One Step At A Time: WooCommerce
So what to answer to the colleague, friend, classmate who wants to become a billionaire thanks to the digital?
After inviting him to calm down, he can be offered a more measured start through WooCommerce, the most popular e-commerce solution to date.
What's WooCommerce?
Born in 2011, WooCommerce is an open-source plugin that rests on WordPress and which to date supports 28% of all e-commerce existing on the web.
Available in over twenty-six languages and downloaded over fourteen million times, WooCommerce is in fact the quickest and least expensive solution for starting an online business that sells products or services.
Unlike competing platforms, such as Magento or PrestaShop, WooCommerce requires minimal technical skills and minimal installation times. The enormous diffusion and the size of the community also allow us to have two key elements available:
Over three hundred specialized extensions , able to manage every specific need of your product or service;
Thousands of pre-set graphic templates and optimized to be responsive and easily editable, for example through "drag & drop" functionality.
It will not be a brilliant invention capable of changing the world, but it is a small realistic and effective solution, within the reach of anyone who wants to exploit the ever-growing potential of the web.
Source: trends.bullwith.com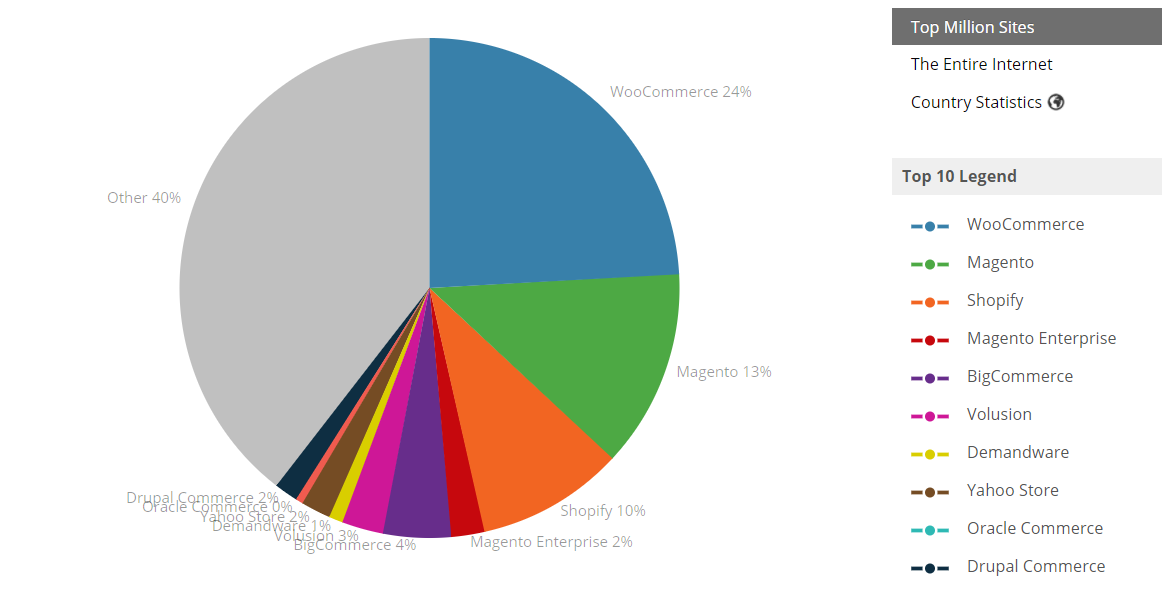 The Secret of Success
Until a few years ago, the idea of being able to develop an e-commerce without any programming skills and without a substantial investment in a professional web development agency was unthinkable; to date, with the due investment of time, it is possible to start your own digital store with minimal costs, while making use of the support of the excellent guides available on https://woocommerce.com and on the community forums.
The professional support of an agency or developer will surely be necessary in order to then grow and make your business scalable, secure and efficient; but as a first start, WooCommerce is one of the possible options.
Not just small shops
The enormous flexibility of the platform means that it is now also used by e-commerce of large multinationals , with thousands of products, such as Duracell , Men's Health and Marvel . A WordPress-based site with a properly built WooCommerce shop offers integrated solutions for loyalty, automation, sharing and interactivity.
In other words, it is possible to offer modular solutions that adapt to the nature of your business, in terms of size, need and nature of the product or customer.
The digital revolution is everywhere around us, but to participate is not essential inventing the new Facebook : today you can start from an idea and the right investment of time.
If you really invented the new Facebook, please refer to our contact page.
Thank you for rating this article.