The bindCommerce system is accessible to users through a web based interface that allows them to view and modify their data (eg products, categories, orders) and manage the movement of the same to and from ERPs, e-commerce platforms, marketplaces, ad sites like Kijiji, social networks like Facebook Catalog and price comparators like Google Shopping. We summarize below the main items included in the bindCommerce menu.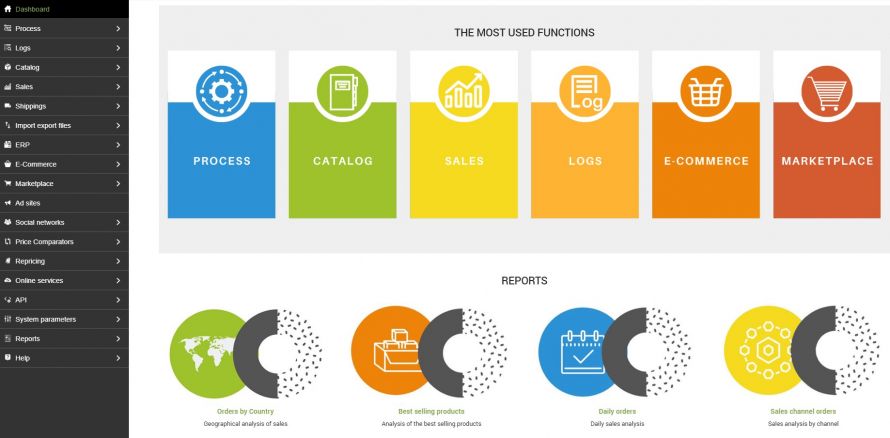 Process
This section contains the main elements concerning the handling and transformation of managed data. Among the main items in this section we find Nodes, Connectors and Procedures.
Logs
Here we find all the logs, divided by category, which allow you to monitor the execution of processes. The various items in this section allow you to consult the logs divided by connector or procedure, as well as specific logs for stock changes and price changes. It is also possible to monitor processes while they are running.
Catalog
This section contains the management of products, categories, attributes, price lists and related prices, manufacturers, suppliers and alternatives (thanks to which it is also possible to manage multilingual). It is also possible to use the multiple export file options made available and set the derivative products with the related derivation rules.
Sales
Customers, orders and order lines are managed here. We also find a specific section called File Download, for analyzing your sales, with the ability to download different types of reports.
Import export files
This section allows you to create and manage the various import and export file configurations.
ERP
Here it is possible to create and manage all the configurations necessary for correct communication with the management systems. The section includes items relating to product import and order download
eCommerce
This section groups all the items relating to the processes that can be performed from and to the integrated eCommerce platforms, divided by type of CMS. For each eCommerce platform there are the related specific items.
Marketplace
This section contains the settings for the management of each marketplace integrated into bindCommerce. Active marketplaces will have a dedicated section with their own set of settings.
Thank you for rating this article.