This type of connector is used to report the settings on the Shopify site to bindCommerce. It is also used to create a list of references of order statuses and products, in order to make communication more effective.
It is advisable to start it at least once before running any other Shopify-related connector, in order to ensure that the operations are performed with full knowledge of the environment with which the interaction will take place.
You won't need to launch it again unless Shopify's unsent settings changed.
We remind you that before creating the connector you need to install the Shopify node on which the connector will operate. After doing this, go to the Processes -> Connect menu and click on the Add button.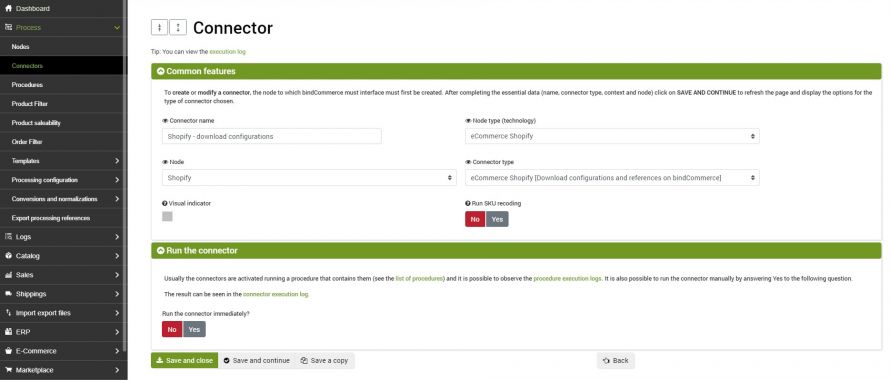 The following parameters must therefore be chosen:
Connector Name: Choose a name to identify what the connector does, for example: Download Shopify configurations
Node Type (Technology): Choose Shopify eCommerce. After choosing the type of node, the Node and Connector Type fields will be updated, presenting the choices compatible with that type of node
Node: choose the previously created node
Connector type: choose the type of connector: eCommerce Shopify [Download configurations and references on bindCommerce]
After having set all the parameters, click on the SAVE AND CLOSE button. No further parameters need to be entered in this case.
Thank you for rating this article.